Platform Scale
The digital platform scale is a general use weighing scale. Its an affordable scale that are used in a number of industries and places like cargo shipping, airports, restaurants receiving areas, warehouses and more. It's based on strain gauge load cell technology, using a single point type of load cell conected to an indicator. its usually placed on the floor and it can be moved easily by one person. The usual weight capacity range from 50kg to up to 1ton. The must demand capacities in UAE especially Dubai are 60kg, 100kg, 200kg, and 300kg. the sizes of these scales are standard starting from 30x30cm and up to 80x80cm and it can be customized. these scales can come with options and accessories to add such as rail and wheels to make it movable. Another option can be printer or check weight function.
Bench Scale
the bench platform scale is a short indicator pole and smaller size than the standard platform scale. the max weight capacity is 60kg. easer to moved and can be placed on tables and desks. usually used for food items including meat and vegetable. Many come with full stainless steel waterproof construction for better hygiene and durability.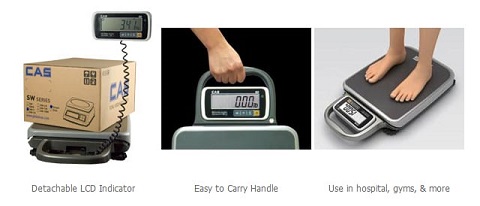 Portable Platform Scale
The need for a mobile scale that can measure up to 200 kg and it can be carried easily by any person has come out with a portable scale such as the CAS PB series. The demand for this type of scale is increasing especially by the express courier, freight companies, and airlines travel operations.
Floor Scale
The floor platform scale is a high capacity, large size, low profile, and heavy-duty scale. It is widely used in the industrial and logistics sectors. Its also known in the shipping industry as the pallet scale.
The standard platform sizes of this scale are 1x1m, 1.2×1.2m, 1.5×1.5m and 2x2m, and the capacities are 500kg, 1ton, 2ton, 3ton, 5ton, and 10ton. This scale is based on 4 load-cells weight sensors at each corner of the platform, connected to a junction box, and then connected to a weighing indicator. Size, capacity, and functionality are customizable depending on the goods and environment where it will be used. The common options and accessories that's been requested by many clients when they buy these scales in the UAE are floor ramps, indicator stand (pole) and printer.
Special Application, solutions and customization